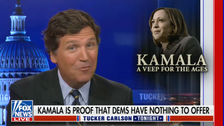 "The Democratic Party at this point is a cartel that exists only to perpetuate itself and the elderly mediocrities who run and benefit from it," Carlson said.
"All of them. Carmela Harris is only 57 years old."
Carlson continued to repeat his "Carmela" name for Harris.
"Kamala, Kimala, Carmela, whatever, the vice president, what's she up to?" Carlson asked.
The Fox News host mangled her name back in 2020, and he wasn't pleased when his guest, former Democratic presidential campaign adviser Richard Goodstein, corrected him.
"So it begins. You're not allowed to criticize Kamala Harris, or Kamala Harris, or whatever."
"It's not 'whatever,'" Goodstein said.
You can watch the clip of the exchange below.
Carlson has a history of mispronouncing names on his show, whether its Ottawa or CNN anchor Don Lemon, although he seems to particularly fail when it comes to the names of left-leaning people of color.



Soruce : https://www.huffpost.com/entry/tucker-carlson-bungles-kamala-harris-name_n_62eb26aae4b00f4cf2373728