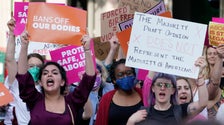 With the Supreme Court poised to overturn abortion protections, people took to the streets in cities across the country to protest for the right to safe, accessible abortion care for all.
Within hours of Politico's reporting on a leaked draft Supreme Court opinion on Monday, people flooded the steps of the Supreme Court in Washington, D.C., protesting against the court's apparent plan to overturn the landmark abortion protections of Roe v. Wade.
Queer activists — whose rights to same-sex marriage and consensual sex are also threatened by the draft opinion — led chants of: "Abortion rights are under attack — what do we do? Stand up, fight back!"
"No more shame, no more silence, forced motherhood is fascist violence," chanted young activists in Chicago.
"Women will fight back like we always have," the Women's March said in a statement on the Tuesday rallies, which were organized by several pro-choice groups. "We're showing up for abortion rights, saying bans off our bodies, and demanding that elected officials take action before the Court gets the chance to overturn abortion."
Republicans have long sought to restrict abortion across the country. Currently, 26 states are likely or almost certain to ban abortion in the case of a Supreme Court decision overturning Roe, according to the pro-choice Guttmacher Institute.
It's worth noting that the court's draft decision is not final and that abortion remains legal in all 50 states for now.
The youth-led Sunrise Movement told HuffPost that its members were planning another protest outside the Supreme Court on Thursday to call for the Senate to codify Roe v. Wade into federal law.
"We are entering an era where our parents had more reproductive rights than us," the youth-led group said. "Decades of progress are being erased by a conservative majority on the Supreme Court. … Our generation will not stop fighting for reproductive rights."



Soruce : https://www.huffpost.com/entry/protests-abortion-rights-supreme-court-nationwide_n_6271af41e4b050c90f45c2ab