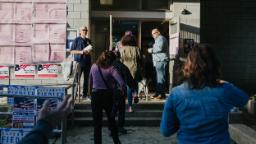 Election results for Lancaster County, Pennsylvania, won't be known for a few days following a printing error on thousands of mail-in ballots. 
About 22,000 mail-in ballots were printed with the incorrect code and could not be read by scanners, according to ​​the Pennsylvania Department of State. 
Officials said the process for fixing the issue will include county election officials remarking the ballots by hand and then scanning them. The process is in line with state law but would likely "take county officials a few days," a State Department spokesperson said.  
Diane Topakian, chair of the Lancaster Democratic Committee, told CNN that the error was first noticed at 7 a.m. ET Tuesday as officials were beginning to open and prepare ballots for scanning through voting machines. Under Pennsylvania law, mail-in ballots can't be opened and scanned until Election Day. 
Topakian said that a group of three people will handle correcting the issue: One to read the mail-in ballot marked with a voter's choices, a second person to complete the new ballot with the correct code and a third to serve as an observer over the process. 
"We won't know the results for about another three or four days," Topakian told CNN. The Democrat added that this is the second time a vendor has misprinted ballots in a primary for the county. The same issue happened in the county's 2021 primary, which resulted in a similar correction process. 

Soruce : https://www.cnn.com/politics/live-news/primary-election-results-pennsylvania-north-carolina-2022/index.html