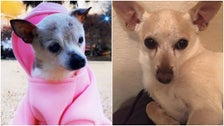 When it comes to being old, there's a new top dog.
Pebbles, who resides in Taylor, South Carolina, is 22. When Pebbles' owners, Bobby and Julie Gregory, learned that TobyKeith had fetched the distinction at a mere 21 years old, they knew Guinness was barking up the wrong tree.
The couple contacted Guinness, which was able to confirm Pebbles' ripe old age, the organization said in a statement. The aged pet, who the couple called the "beacon of our lives," was born on March 28, 2000.
Neither of the distinguished dogs are anywhere close to the record for oldest dog ever. That dog was an Australian cattle dog named Bluey who died in 1939 at the age of 29 years and 5 months.
Somewhat ironically for a dog whose claim to fame is unseating TobyKeith, Pebbles enjoys listening to country music, Julie Gregory told Guinness. But the real key to canine long life isn't heartland melodies ― it's devoted love and care, Gregory said.
"Treat them like family because they are," she told Guinness. "Give them a happy positive environment as much as possible, good clean food and proper health care."



Soruce : https://www.huffpost.com/entry/pebbles-oldest-living-dog-toy-fox-terrier_n_6290f391e4b05cfc2699d563