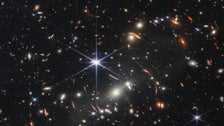 NASA on Tuesday released more images from the James Webb Space Telescope, a day after President Joe Biden unveiled the first image at the White House.
In partnership with the European Space Agency and Canadian Space Agency, NASA is releasing the images as part of its research into the earliest days of the universe.
This image of a distant planet was released Tuesday in a presentation from NASA's Goddard Space Flight Center.
This is a developing story. Please check back for updates.



Soruce : https://www.huffpost.com/entry/nasa-james-webb-space-telescope-images_n_62cd82d7e4b0aa392d449dbd