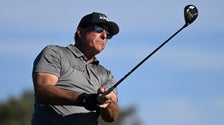 The LIV Invitational Series, a controversial new golf tournament backed with money from Saudi Arabia, is causing a major rift in the world of golf.
The series website claims it is an "opportunity to reinvigorate golf," but opponents and human rights advocates say Saudi Arabia, whose government was found to be responsible for the murder of a Washington Post journalist and which has a history of human rights violations, is using golf to clean up its reputation — a strategy known as "sportswashing."
Despite the controversy, the LIV Invitational has already lured dozens of professional golfers by promising lucrative price purses and undisclosed sign-on payouts.
But participating in the series also means golfers have to choose sides. The prestigious PGA Tour suspended any golfers participating in LIV events from PGA events.
As the Saudi-funded golf series makes its way to U.S. soil for the first time with a tournament in North Plains, Oregon, this week, the debate on whether the series is good for the sport grows louder.
Lawmakers in Oregon have publicly opposed the tournament's presence, with Sen. Ron Wyden (D-Ore.) calling it a "page out of the autocrats' playbook covering up injustices by misusing athletics in hopes of normalizing their abuses," Oregon Public Broadcasting reported.
North Plains Mayor Teri Lenahan also signed a letter with 10 other neighboring mayors protesting the Oregon tournament, saying the event was "sponsored by a repressive government whose human rights abuses are documented."
Here's what you need to know about the divide in golf caused by the Saudi-funded LIV Invitational Series.
How is Saudi Arabia luring golfers away from the PGA?
The Saudi Arabian government has a muddied history of human rights violations, according to Grant Liberty, a human rights advocacy group based in London.
"Saudi Arabia is trying to use the good reputation of the world's best loved sports stars to obscure a human rights record of brutality, torture and murder," Grant Liberty spokesperson Lucy Rae told The Guardian last year.
The Saudi kingdom's sovereign wealth fund, the Public Investment Fund, invested a whopping $2 billion in the LIV Invitational Series, according to Forbes Magazine.
Saudi Arabia's government created the PIF, which is led by Saudi Crown Prince Mohammed bin Salman, to invest in assets that will protect and strengthen the oil-dependent country's economy. In the last few years, the Saudi kingdom has used the fund to invest in sports around the world, including boxing, soccer and Formula 1 racing, according to Front Office Sports.
Grant Liberty released a report in 2021 revealing that Saudi Arabia spent an estimated $1.5 billion on international sports, including golf.
What are professional golfers doing about it?
The LIV Invitational is already becoming one of the most lucrative golf tournaments in history.
The total prize purse for each tournament in the series is reportedly $25 million, Sporting News reported. In March, ESPN reported that the total prize money for all eight events in the series will amount to $255 million.
That's on top of the money golfers are being paid to sign on with the series.
Legendary golfer Tiger Woods turned down a potential nine-figure deal with the series in June, according to LIV CEO Greg Norman, who spoke to The Washington Post about his decision. According to the Post, both Woods and Jack Nicklaus, another golf legend, rejected the new league's lucrative deals to protect golf's legacy.
Norman, a world champion golfer who was inducted into the World Golf Hall of Fame in 2001, was hired as the commissioner and chief executive of LIV Golf.
"Woods turned down a deal that was mind-blowingly enormous; we're talking about high nine digits," Norman, who was the 1995 PGA Tour Player of the Year, told the Post in early June.
Decorated golfer Phil Mickelson accepted a $200 million deal in June to become the face of the LIV Golf series. However, Mickelson reportedly acknowledged that the Saudi government was using the golf league to improve its reputation as a repressive and deadly regime.
"They're scary motherf**kers to get involved with," Mickelson told his personal biographer Alan Shipnuck, who shared an excerpt of his book on the golfer in February.
According to Shipnuck, Mickelson said:
"We know they killed [Washington Post reporter and U.S. resident Jamal] Khashoggi and have a horrible record on human rights. They execute people over there for being gay. Knowing all of this, why would I even consider it? Because this is a once-in-a-lifetime opportunity to reshape how the PGA Tour operates. They've been able to get by with manipulative, coercive, strong-arm tactics because we, the players, had no recourse. As nice a guy as [PGA Tour Commissioner Jay Monahan] comes across as, unless you have leverage, he won't do what's right. And the Saudi money has finally given us that leverage."
How is the PGA Tour responding?
In early June, after the LIV Invitational launched its inaugural event in London, the PGA Tour announced it would be suspending any golfers who participated in the Saudi-backed series from PGA events.
In addition to that, PGA Tour Commissioner Jay Monahan recently announced that the tour was making dramatic changes to its schedule in fall 2023 in response to the LIV Invitational, and would be increasing the prize purses for PGA events.
For example, the PGA increased the prize purse at next year's FedEx Cup playoff tournaments from $15 million to $20 million. Several other marquee events on the PGA Tour have increased their purses from $12 million to $20 million, The Washington Post reported.
The PGA Tour also shrunk the field sizes for the FedEx Cup — LIV Golf's tournaments are shorter and played on smaller fields — and shifted its tour schedule to more closely match the lighter and more flexible schedule offered by LIV Golf, which some golfers favored.
When announcing the changes last week, Monahan referred to the Saudi-backed golf league as an "irrational threat" to the sport.
"Let me be clear: I am not naive," Monahan said during a press conference at the PGA's Travelers Championship on Wednesday. "If this is an arms race and if the only weapons here are dollar bills, the PGA Tour can't compete."
Monahan added: "The PGA Tour, an American institution, can't compete with a foreign monarchy that is spending billions of dollars in an attempt to buy the game of golf."



Soruce : https://www.huffpost.com/entry/saudi-arabia-united-states-golf-tournament_n_62b20edde4b06594c1dc4f07