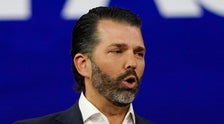 Trump Jr. crowed on Twitter this week about the success of MAGa candidates in Republican primaries, including that of Ohio Senate candidate J.D. Vance who he'd heavily endorsed.
"The GOP is now the MAGA party! America First!" the Trump scion wrote in another post.
Trump Jr. and his younger brother, Eric Trump, drew backlash years ago when photos emerged of the animals they'd killed on safari — including a leopard with which they posed.
The images resurfaced during their father's 2016 presidential campaign.
Trump Jr. was similarly scorned when it was revealed he'd traveled in 2019 to Mongolia and killed an endangered sheep, at an almost $77,000 cost to U.S. taxpayers.
Detractors fired back at his most recent posts:



Soruce : https://www.huffpost.com/entry/donald-trump-jr-endangered-species_n_62736ce6e4b0d7ea4cc8688e