WASHINGTON ― Democratic lawmakers are urging President Joe Biden to take a more aggressive approach to address the threat of global warming now that the bulk of his "Build Back Better" agenda has stalled in Congress.
"This unchains the president from waiting to act. This frees up the president to use the full powers of the executive branch, and those full powers certainly include a climate emergency," Sen. Jeff Merkley (D-Ore.) said Monday after it became clear Democrats lacked the support to revive their economic agenda.
With Sen. Joe Manchin (D-W.Va.) and all Senate Republicans opposed to more spending aimed at combating climate change, hopes for robust climate legislation are fading once again in Congress.
The setback is occurring at a time when extreme drought and extreme heat are breaking records around the world, including most recently in Texas and even in the United Kingdom. More than 1,100 people have died in Spain and Portugal from heat-related causes over the past week.
Biden vowed last week, after Manchin informed Democratic leaders of his opposition to more spending, to take "strong" executive action on climate change. Advocates are waiting to see whether he follows through.
One action the president could take is to declare a national climate emergency, which would allow him to redirect congressional spending to boost renewable energy. Former President Donald Trump declared a national emergency on the U.S.-Mexico border and used congressional funding to build border barriers.
Biden's administration could also impose stronger limits on pollutants and enact more regulations of emissions that contribute to global warming, such as carbon dioxide.
Environmental groups say Biden should go even further by halting federal fossil-fuel leasing and stopping approvals of new pipelines and other oil and gas projects, though such steps seem unlikely for now with the administration focused on reducing high gas prices ahead of the November election.
Sen. Sheldon Whitehouse (D-R.I.), who tweeted last week that Biden should go "beast mode" on unilateral climate action, urged the president to use the power of the bully pulpit to draw national attention to the issue. The president could visit parched Lake Mead, which has receded to a record low, and meet with firefighters who are on the front lines of the climate change fight, the senator added.
"The consequences of fossil emissions in our oceans and in our atmosphere alter fundamental conditions of those natural operating systems, and when you alter them, that cascades into consequences that you cannot renegotiate. You cannot negotiate with the laws of physics," Whitehouse said.
It's unclear which of these actions, if any, Biden will follow suit on. Although the president has shown a willingness to take executive action, including by signing orders on guns and on abortion, he has resisted more expansive measures sought by progressives, including the cancellation of student debt and the declaration of a national emergency over abortion access following the overturning of Roe v. Wade.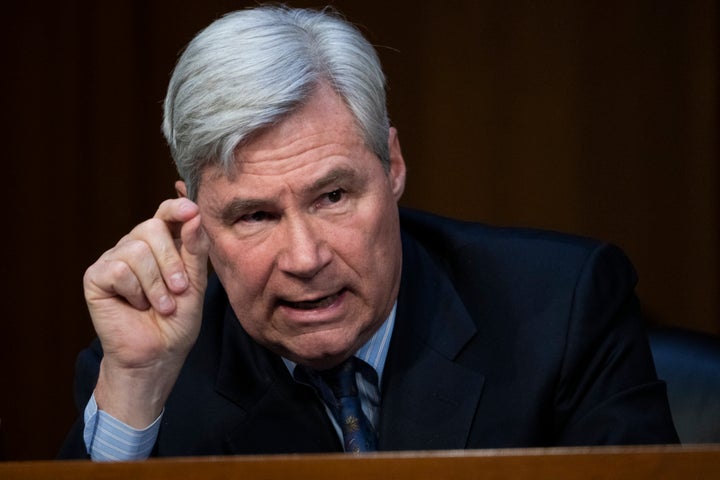 "You cannot negotiate with the laws of physics."

– Sen. Sheldon Whitehouse (D-R.I.)
Any executive action on climate is likely to face legal challenges brought forth by Republicans. The conservative 6-3 majority on the Supreme Court, for example, recently kneecapped the Environmental Protection Agency's power to regulate greenhouse gases. Conservatives have signaled their intention to go even further by pushing the high court to gut the power of the administrative state entirely.
But Democrats warned that the consequences of not acting to address climate change were too great regardless of what the Supreme Court may decide to do down the line. They urged Biden to use the power of his office and let the chips fall where they may.
"We cannot sit still for fear of what the court might do," Merkley said. "Let's pursue every option, and if a few of them are struck down, they're struck down, and we'll double down on the rest."



Soruce : https://www.huffpost.com/entry/climate-change-biden-executive-action_n_62d5fc23e4b0e6fc1a9a6549