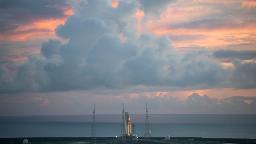 It's no coincidence that the Artemis program is named for the twin sister of Apollo from Greek mythology. Artemis will pick up where the famed Apollo program left off in 1972 — 50 years ago — by sending crewed missions to the moon, but in a new way.
When Artemis I launches, the uncrewed mission will test every new component that will make future deep space exploration possible before humans make the journey in 2024 and 2025 aboard Artemis II and Artemis III, respectively.
After the launch from Earth, Artemis I will go on a 42-day mission. During the journey, the Orion spacecraft will travel 40,000 miles (64,000 kilometers) beyond the moon — 30,000 miles (48,000 kilometers) farther than the record set during Apollo 13. This path mimics the journey that the Artemis II crew will take in 2024.
It will be the farthest that any spacecraft built for humans has flown, according to NASA officials.
The Orion spacecraft has hardware and software that will allow future crews to have complete insight into what's happening with their vehicle when they are thousands of miles from home.
Goals of the Artemis program include landing diverse crews of astronauts on the moon and exploring the shadowy lunar south pole for the first time. The ambitious effort also aims to establish a sustained presence on the moon and create reusable systems that can enable human exploration of Mars and perhaps beyond.
All of the objectives for the inaugural Artemis flight will demonstrate capabilities necessary for when Orion carries humans to deep space. The list includes an overall safe flight, the performance of the Space Launch System rocket, testing the heat shield and retrieving the spacecraft once it splashes down in the Pacific Ocean off the coast of San Diego.

Soruce : https://www.cnn.com/us/live-news/artemis-1-moon-rocket-launch-postponed-scn/index.html